Previous Winners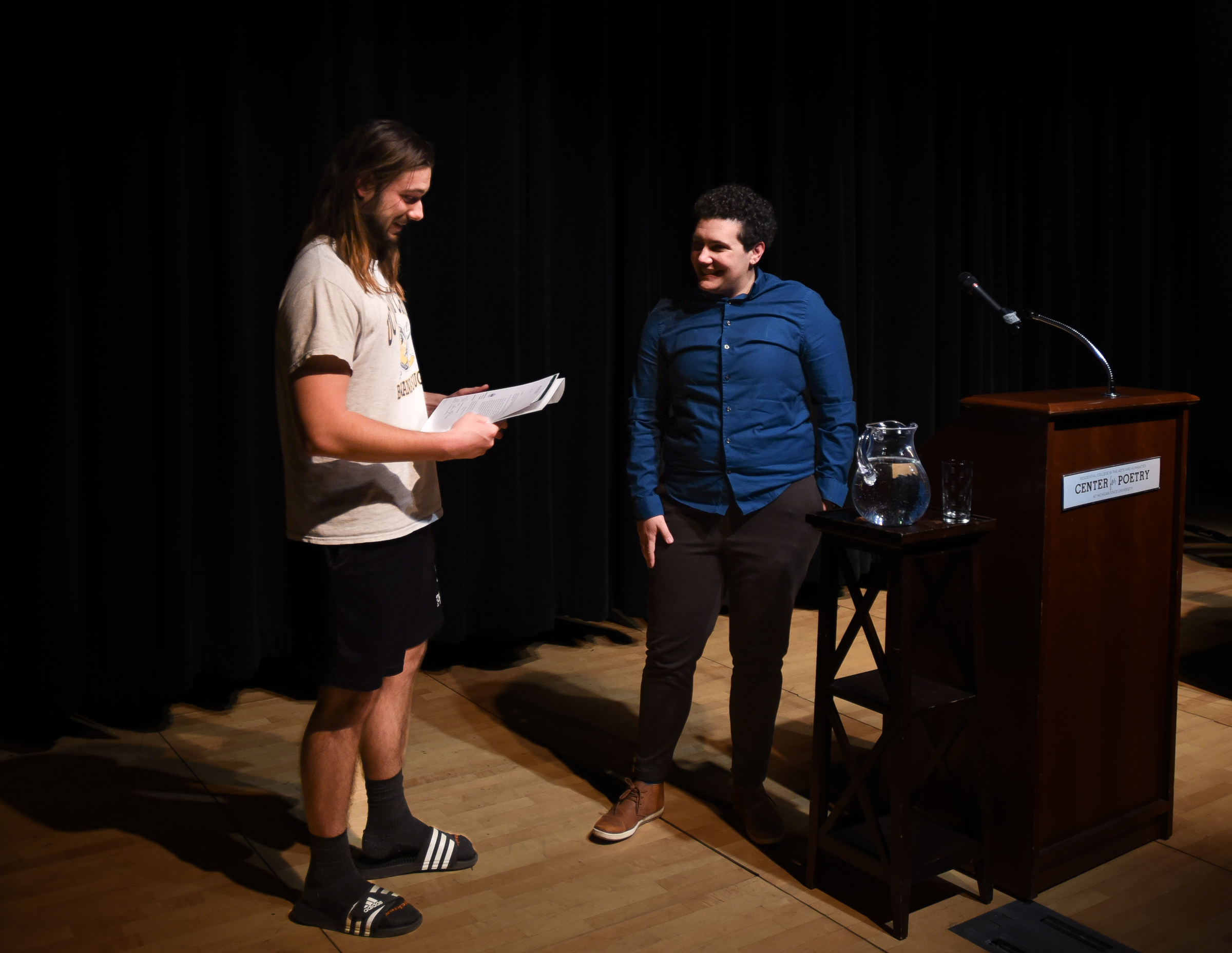 2023 Balocating Prize Winner
Congratulations to Mike Merucci, whose poem "Goldleaf" was chosen by final judge Raquel Salas Rivera as the 2023 Annie Balocating Undergraduate Prize for Poetry winner.
About the winning poem, Raquel Salas Rivera writes:
"Goldleaf" is a poem whose tight spirals return words tornado-like—tan, cigar-smoke, trailer, mulch—like Goldleaf cigarettes stuffed into stanza-packs or like Goldleaf packs littered across the "dying asphalt" on Middlebelt. Where "sand, silt, or clay" are a father's skin, the poem's images throw the materiality of the everyday into relief. I linger on fragments, like when the poet describes "smoke    plucked from a tan cigar box, jammed between business cards and keys and empty pens and scribbles on yellow sheets," offers the image of a man who wears "cigar smoke and dog hair" like a "neon shirt," or writes of a child spinning an oversized ring on their finger, making spirals of moon and smoke.        This poem's music builds like a radio competing with the wind, until it fills page and reader with its entirety.
Mike was awarded $500 and read the winning poem at Just Breathe: CAConrad and Raquel Salas Rivera on April 20, 2023.
Finalists for the 2023 Balocating Prize for Undergraduate Poetry are Andy Deleruyelle, Martin Louney, Nathan Nichols, Ashton Powell, Julia Rudlaff, and Dominick Stoops.
Goldleaf
Neon t-shirts lay along Middlebelt's dying asphalt, sinking into cracked yellow lines, crumpled,
dirt-caked, wearing cigar smoke and dog hair, buried in July sun and mounds of topsoil, mounds
of mulch the children climbed like tan grass hills a city over, burning in the reflection of those
windows, those stacked, melting glass cubes my father drove loaders by, drove trucks by
Drove us by with his neon shirt, his cigar smoke, his dirt smeared along his arm
When the sun had only just climbed over the mulch yard trailer to illuminate his tan skin,
his white scars, his heavy ring I'd swing around my finger in a spiral, a tornado ending
with the moon and smoke shining against it, smoke plucked from a tan cigar box, jammed
between business cards and keys and empty pens and scribbles on yellow sheets, jammed
Somewhere in that trailer where I'd run around and spin in chairs, becoming lost in my own
spiral, my own tornado, unable to recognize anything but chipped bobbleheads of Ben
and Rasheed Wallace and my hand whisking its fingers inches from my face, pitching
sand, silt, or clay into imaginary trucks lined along this carpet's mulch yard
until cigar smoke would enter the room
And we'd drive off down Middlebelt with windows rolled down, stars wavering, and the radio
louder than the wind.
Mike Merucci
Winner, 2023 Balocating Prize for Undergraduate Poetry
***
Past Winners
2022            Sophia DeRango        
2021           

Mira Blankenship
2019            Sameed Khan         
2018            Maddy Wheelock
2017            Emma Hintzen
2016            Anna Goodson
2015            Connor Yeck
2014            Jenny Crakes
2013            Tony Lograsso
2012            Grace Pappalardo
2011            Korey Hurni