Renowned Translator and nye musician bring new perspectives to annual Translation Conversation
March 2, 2016 - Kelsey Block

On Monday, February 22, Director of Arabic studies at DePaul University Nesreen Akhtarkhavari visited the RCAH Center for Poetry to join in the Translation Conversation. The Translation Conversation focused on the work Akhtarkhavari translated, titled Desert Sorrows: Poems on Love and Politics by Tayseer Al-Sboul.
Akhtarkhavari's reading and talk was accompanied by nye musician Nadim Dlaikan. The nye is a Persian reed flute. Dlaikan crafts his own instruments from bamboo he grows in his backyard in Detroit.
Akhtarkhavari grew up speaking Arabic, Persian and English. She started translating so she could use Arabic works in her classroom.
"A lot of the work that I'm familiar with and that provides an alternative view of the stereotypes of who Arabs are is not translated," she said.
When the Jordanian Writers Society got wind of what she was doing in the classroom, they invited Akhtarkhavari to translate a novella, You As of Today by Tayseer Al-Sboul. She's been continuing her translation work ever since. Her latest project is a translation of Rumi's Arabic poems for the MSU Press.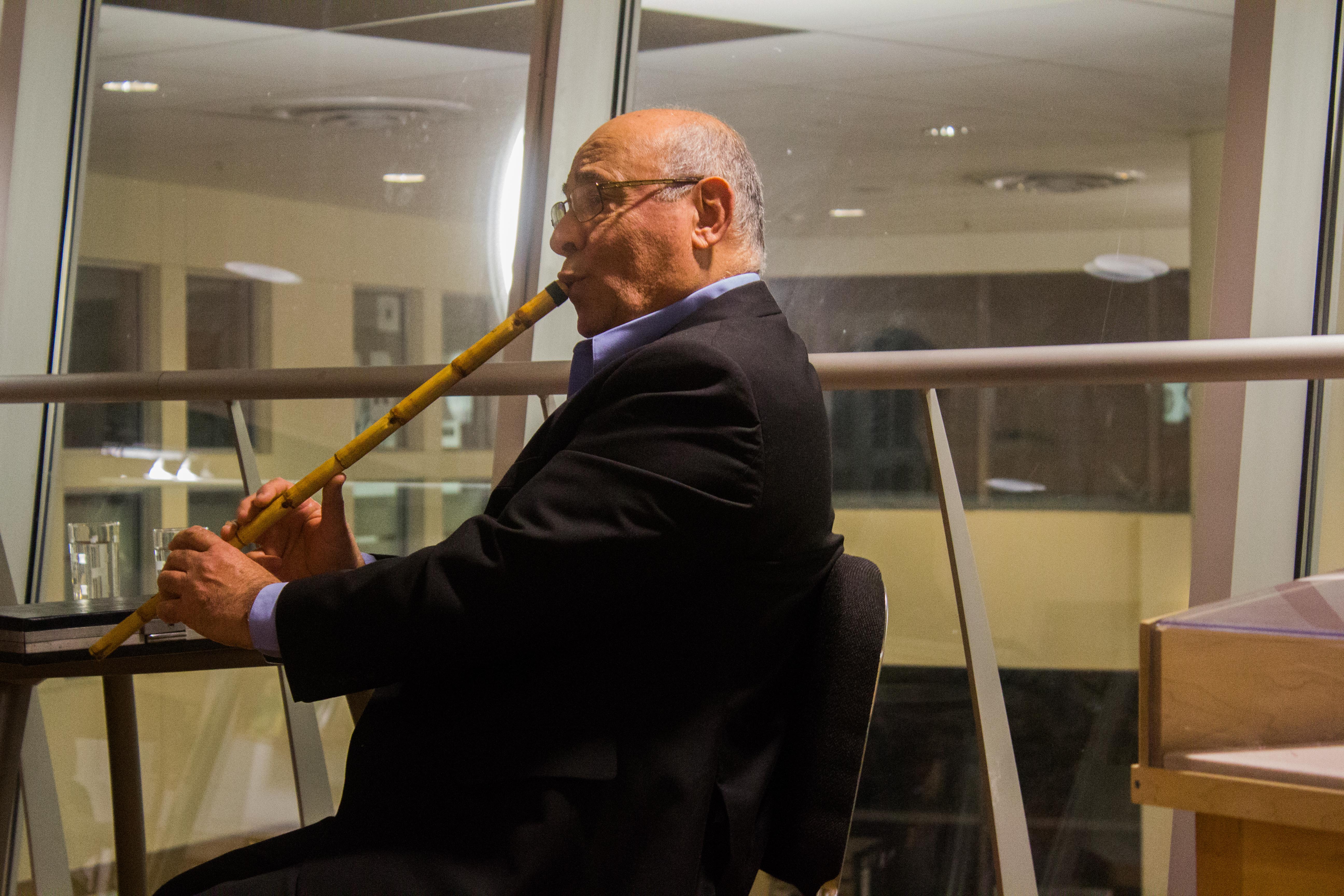 Akhtarkhavari is not a poet herself, but she works closely with Anthony Lee, a UCLA poet, on all of her poetry translations.
"He doesn't speak a word of Arabic.  I like it this way," she said. "It allows someone to look at the poems from the readers' perspective in addition to being a poet. A reader doesn't necessarily have to be familiar with Arabic but still can digest the poem in the English language without too many spices from Arabic."
Some of those Arabic "spices" that are difficult to convey in English include an expression of grief in which the "she-camel is weeping," a term of endearment in which parents call children their liver, and the seagull as a symbol of freedom rather than nuisance. In these instances, Akhtarkhavari does her best to convey content and sentiment, rather than opting for a direct translation.
"The distance between Arabic and English is so wide that there are very few words in common. So I'm not just changing sound, I'm changing structure," she said. "That's where it is important for me to understand the poem and then try to bring the pictures back to the target language as close as possible. To repaint the poem with the same colors … For me, the last thing that gets sacrificed is content."
Context is also extremely important when translating poetry, Akhtarkhavari said.
"You have to really know your audience and you have to make sure you don't let the transfer of metaphors distract from the meaning. That's when you drop it, when it starts distracting from the meaning," she said. "You want it to be different. You're not turning an Arabic poem into an English poem. If you do that, it loses the novelty it's bringing to the language. These translations help expand the imagination of the target language reader; that's why they are profound."