Detroit Poet Jamaal May visits East Lansing
April 3, 2014
Last week, the RCAH Center for Poetry in collaboration with the MSU English Department was proud to host a reading by Detroit poet Jamaal May.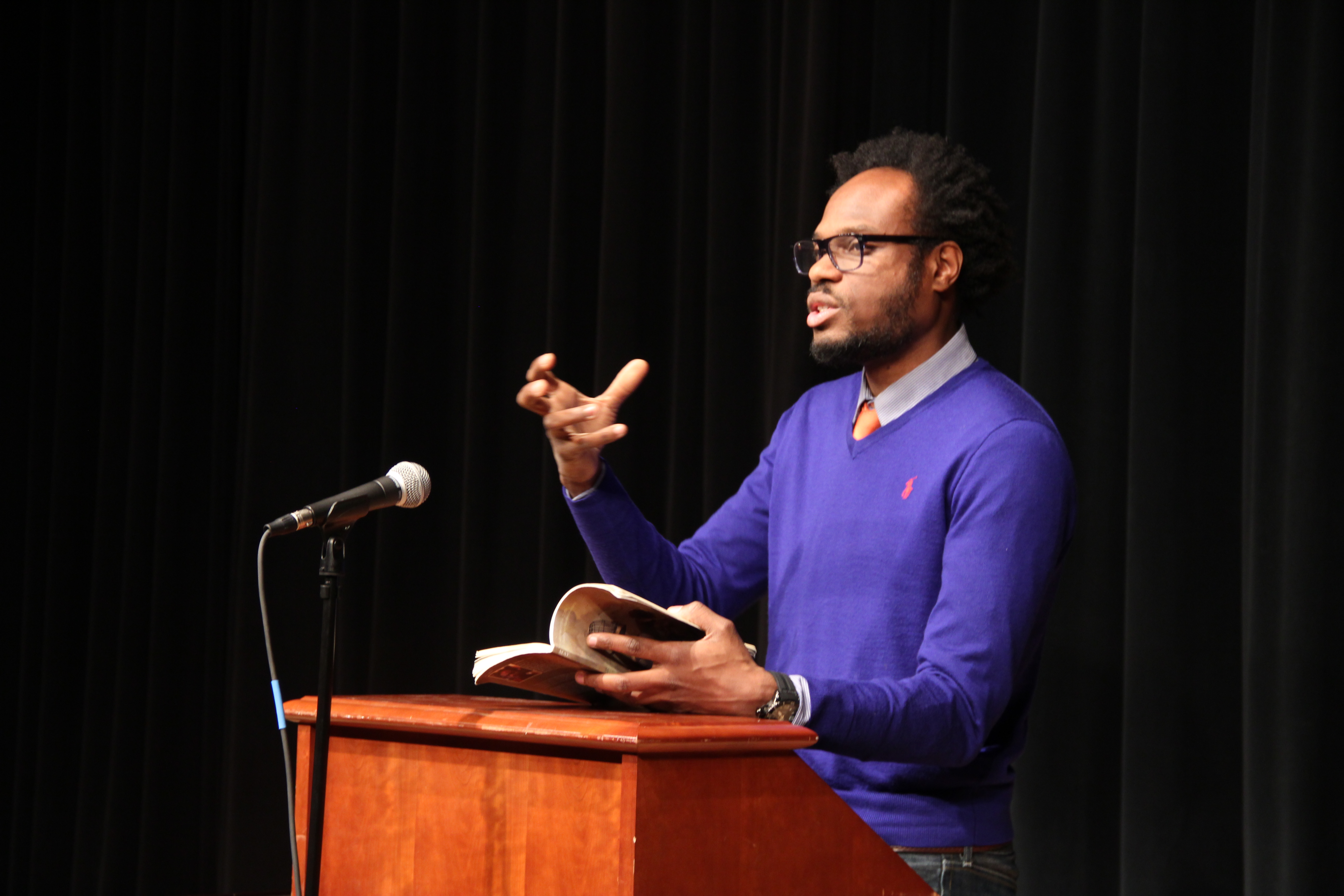 May's first book of poetry, Hum, was published in 2013 and won the Beatrice Hawley Award.
May said he first got interested in poetry while recording a hip hop album. With a little nudge from his sister, May said he rearranged two of the songs he had been working on and performed them at a poetry slam.
"The only way to grow is to do what you cannot do, and the thing I could not do was crowds," May said.
May noted that his weakest moment was early on in his career as a performer. He said he had done well at a slam in Baltimore one year, and went back the next year to prove himself again.
"It was the first time I went to a slam specifically to win it," he said, noting he was not able to win the second time around. "It was a low point that I was driving all the way back to Detroit, alone. I couldn't afford to be there. I vowed to never go to a slam just to win again."
On the opposite side of the spectrum, May said that wining the Spirit of Detroit Award as a poet was one of the best moments in his career.
"It was a very Detroit thing," May said. "It was straight up like poetry was relevant in this way to Detroiters, and people are actually paying attention. That's crazy."
May says reading is an integral part of his writing process.
"I cut any poem that I don't want to read out loud," he said. "If I had a poem that didn't work in the air, I wouldn't think of it as a poem. I would think of it as some other form of writing. It's a genre, so part of the genre is how it sounds – what it was created to do is to be read out loud."
May noted that his ties to music factor in to his writing, but he tries to keep them separate.
"There's all these natural rhythms we have when we're speaking, and that was always a starting point for me. Like, 'how does this sound?'" May said. "But it's important to keep music separate because that's how I learned… I've tried poems that use music as subject matter and that was always weird for me so I moved away from it."
Similarly, May said he never intended to write about Detroit. In fact, he set out to do the opposite.
"I got around to writing about Detroit by avoiding writing about Detroit," May said. "I was trying to look at interpersonal relationship and solitude … If I was trying to write about all that stuff in the framework of Detroit, I probably would have failed."
May advises young writers to use the craft to get to something that's real and emotionally raw.
"The idea of writing as a political act is that you're writing toward understanding," May said. "It's about really trying to connect [with people] and knowing you will fail. It has an ache of me trying to understand something but not getting it."