Benvenuto winners visit Center for Poetry
December 6, 2014 - Kelsey Block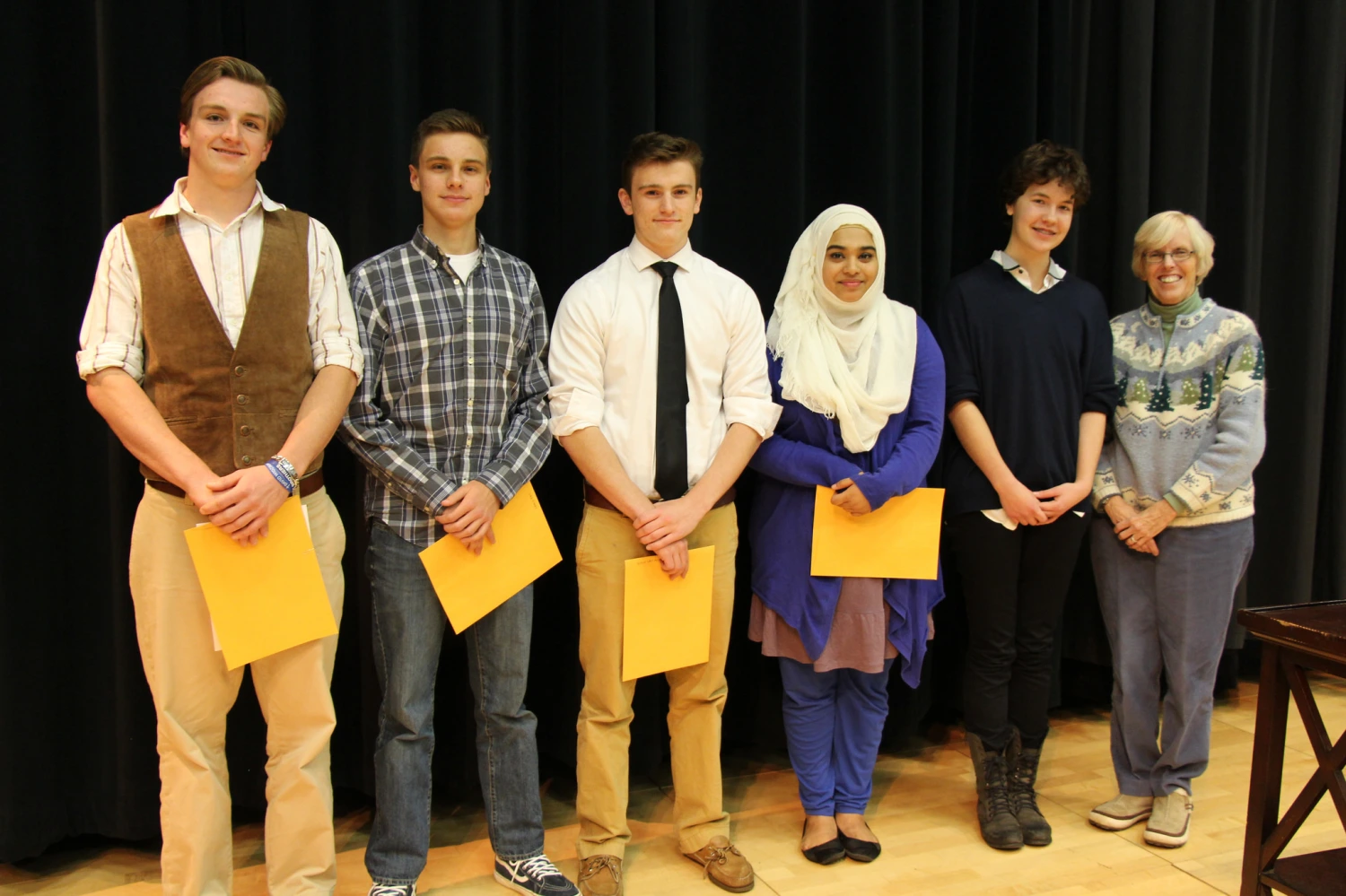 On Wednesday, November 19, six Michigan high school students were recognized as winners of the Benvenuto High School Poetry Competition. The announcement was celebrated in conjunction with a reading by the last guest of the Fall 2014 Writing Series, Jim Minick.
The winners of the Benvenuto Competition are: Jackson Graham, first place, of Detroit Catholic Central; Nazifa Chowdhury, second place, of Detroit International Academy for Young Women; Paulina Adams, third place, of Harbor Springs High School; Jack Evans, honorable mention, of Detroit Catholic Central; Ellen Zhang, honorable mention, of Troy High School; and Mitch VanAcker, honorable mention, of Detroit Catholic Central.
The poetry prize was established in 2008 in honor of late MSU Professor Richard Benvenuto. His wife, Joyce Benvenuto, said students should be recognized for their art.
"I think the poetry has been really good. I've really been proud to hear (the students) read," Joyce Benvenuto said.  "(The Center for Poetry) brings in a major author and he's there sitting along with the kids and these kids are shining. They're really showing that poetry is alive and well."
The prize grew out of a collaboration between mid-Michigan writers and teachers Joyce Benvenuto and Linda Cheeseman. The pair originally established a spring poetry prize for Lansing area students. As the project grew, it attracted the attention of Barry Gross, a retired MSU English professor and former colleague of Richard Benvenuto. Gross offered up additional funding, and the pair decided to partner with the Center for Poetry to create another competition for students around the state.
Nazifa Chowdhury, 16, said she didn't expect to win, let alone earn second place. Chowdhury has been writing poetry since she was in the sixth grade. Since then, she's been in summer programs and performed her poetry around the state. Chowdhury's poem, titled "Rivulets & Guilt" was about her grandfather.
Chowdhury said the hardest part about writing her poem was admitting that she was one of the people who had overlooked her grandfather's wisdom.
"It was admitting to what I feel like I did wrong," she said.
Mitch VanAcker said he first heard the news from classmates.
"Everybody started coming up to me saying my poem was good," VanAcker said. Later, he found out his teacher had announced it in class. "It feels good to be recognized and it makes me want to continue," he said.
Jack Evans said the competition gave him a sense of validation and inspired him to work harder.
"I was really excited," he said, adding that he's been involved in poetry at school and through Poetry Out Loud. "As soon as I got the email, I forwarded it to my teacher with 'HELL YEAH' in the subject line in all caps."