A Pandemic Gathering of RCAH Poets
April 2, 2021 - Kristin Phillips, RCAH '14
The RCAH Center for Poetry hosted a virtual presentation of alumni poets on March 18.
Six RCAH alumni, all published poets, read their work in various styles and genres in this Facebook Live special event.
Viewers enjoyed engaging with emotional and complex poetry in the digital space.
A Review by Kristin Phillips '14
On Thursday, March 18, the RCAH Center for Poetry in the Residential College in the Arts in Humanities at Michigan State University hosted RCAH-Verse, a virtual presentation of RCAH's own talented poet alumni that featured Grace Carras '19, Abigail Kirby Conklin '13, Jenny Crakes '16, Lia Greenwell '11, Alexis Stark '18, and Arzelia Williams '19. Five of the alums were former RCAH Center for Poetry interns, Greenwell was the Center's programming assistant from 2007-11, and all have published their work. 
While the poets spoke into webcams, their words resonated all the same. Across styles, subjects, and syntax, the talented grads took turns speaking truth to power, pain to joy, and sharing their pandemic woes and triumphs.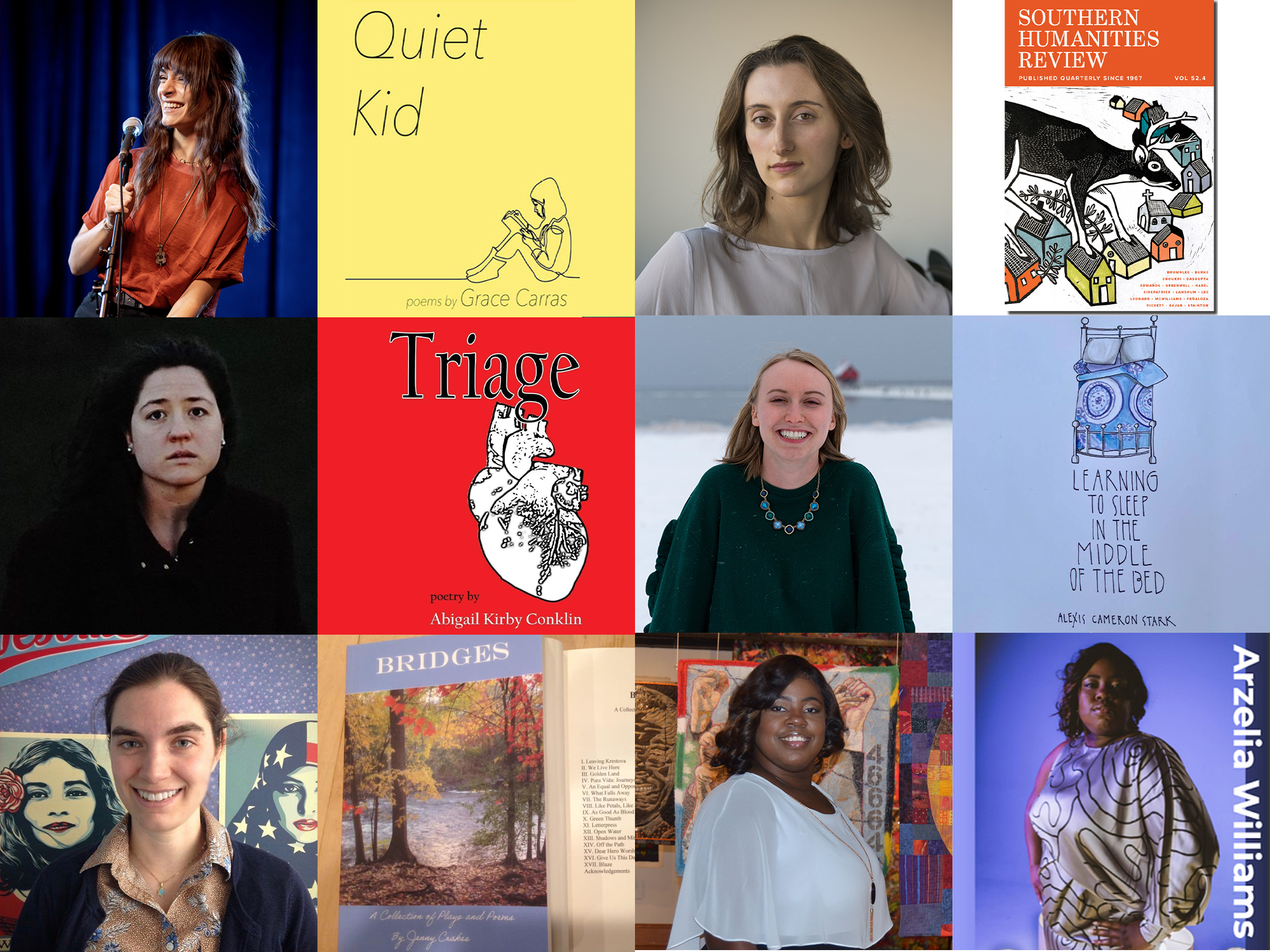 "As you took a hold of the ear of the universe," Conklin, the first poet, began. She is the author of Triage and currently doing graduate studies at the University of Toronto in Indigenous knowledge and decolonizing education. 
"Grief is mountains," Stark read next, speaking on the emotions of the pandemic while also discussing Lake Michigan, therapy, and her recently published chapbook, Learning to Sleep in the Middle of the Bed. 
The pandemic topic resonated with many of the other alums, who mentioned their own struggles of trying to stay creative, managing their jobs or graduate school work, and even the same trial of publishing their first books during pandemic times. In the virtual event's chat, listeners cheered, sharing heart emojis and clapping hands in lieu of applause and snaps. 
Carras also spoke to the pandemic grief, reading, "Andrew, little Andrew, the quiet kid, the gentle child. The trampoline artist, tight-rope walking on my heart," about her brother who caught Covid and has had difficult complications. She read further from her book, Quiet Kid, speaking on the importance of family and heritage, and reconciling rejection with rage and acceptance.
Williams, a dual RCAH and James Madison College alumna, read her poems that were also inspired by the topic of heritage. She began with a poem inspired by Harriet Tubman—"Hidden in the seams of our ancestors"—before pivoting to natural hair and being a Black woman in America. Arzelia is currently earning her master's in journalism from the University of Missouri. 
Continuing the theme of heritage, family, and women, Crakes, a poet and playwright, read from her poem "Soft eyes" about a Jewish matriarch: "Sustain us steadfast in a gentler translation." She also has a recently published book, Bridges, and spoke later during the question-and-answer session about the difference she feels in writing between the two genres of plays and poetry. 
Greenwell, the last poet to read, also wrote in the margins between genres. "They scraped language from a seemingly empty jar," she read from one of her narrative essays, explaining how she explored longer-form writing since graduating in 2011 in the first class of RCAH graduates. Since then, she has been published in numerous publications and taught creative writing.
Each talented alumna, no matter how long it had been since graduation, welcomed the reunion with one another and the chance to share in a night of poetry. To support these RCAH grads, please check out the links below to learn more about them and their work.
Support the poets!