The Beautiful Fortune of Only Speaking in Poems
October 16, 2020 - Chris Martin
Last Thursday evening, the Center for Poetry had the honor of co-hosting four nonspeaking autistic poets for a reading that won't soon be forgotten. 
Neurodivergent Poetics was presented in partnership with Unrestricted Interest, a writing program 
and consultancy dedicated to helping neurodivergent learners transform their lives through writing. Chris Martin is the co-founder of the program, and assisted in presenting the work of poets Adam Wolfond, Sid Ghosh, Imane Boukaila, and Hannah Emerson.
We wanted to share Chris's blog post, also available here, written in the afterglow of the event.
The Beautiful Fortune of Only Speaking in Poems
Last night four Unrestricted writers–Adam Wolfond, Sid Ghosh, Imane Boukaila, and Hannah Emerson–invited the poets of now into the neurodiverse future.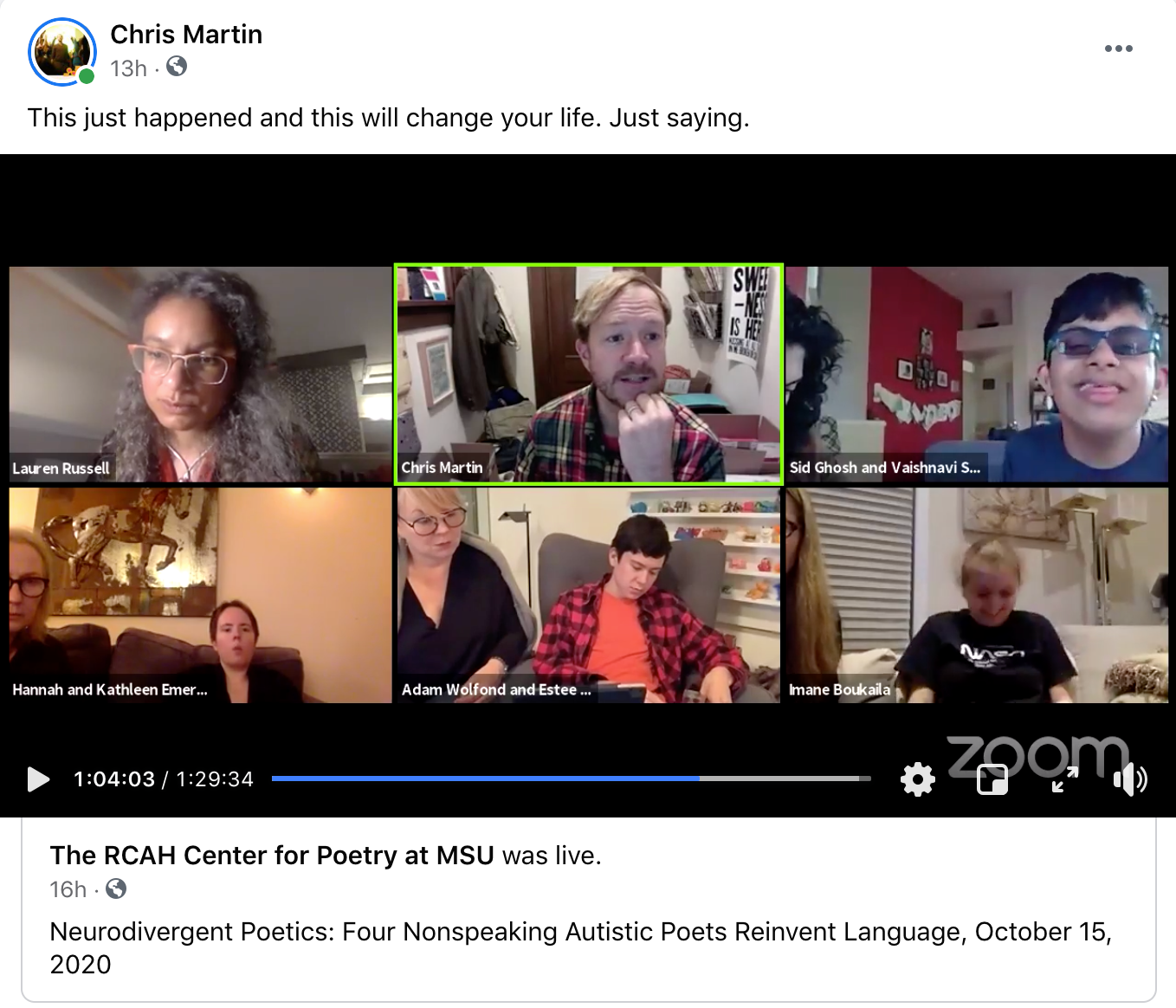 Although it was a webinar-style Zoom presentation, I could honestly feel the way their poems were changing people. I am given to something called emotional synesthesia, a kind of hyper-empathy that is both blessing and curse, but even I couldn't imagine feeling other people's feelings across the digital divide until last night. Then it happened. I was reading a poem by Hannah when suddenly I felt very overwhelmed, tears welling in my eyes, and when I was able to see the chat once more, it was full of people crying. One person admitted that they'd been in tears since the first reader.
When the reading was coming to its end, I asked a question of the poets regarding their voices. This is not a simple question when it comes to nonspeaking writers, and not just for the obvious reasons. These four poets each have a poetic voice that is unmistakable, what I've elsewhere called an idiolect, distinguishing their linguistic patterns from anyone else in the universe.
That's revolutionary in itself. But what's more, these voices are inseparable from their "normal" voices. These poets, so alienated and freed from "normal" ways of moving through the world, never miss a chance to reinvent language. They don't have "normal" voices because that would mean compromising their commitment to caring for every word, to standing in their most authentic language, to offering others something transformative. And care is how we practice rigorous love. When I asked them about this phenomenon, here is what they had to say.
Adam Wolfond: "Yes I think that I am always middling the want to make language of feeling go and I am always thinking with the way I move amazing that people just talk for good reason and not for love or poetry."
Hannah Emerson: "Please try to understand that love is the language I speak."
Imane Boukaila: "Treasuring thinking resets the mind truth omnipresence really travels connecting the gap between inspiration and reality."
Sid Ghosh: "Fasting from daily moping speech gives me lot of boggling insight into beautiful fortune of only speaking in poems."
For Love & Poetry,
Chris