Capital Area Poetry Competition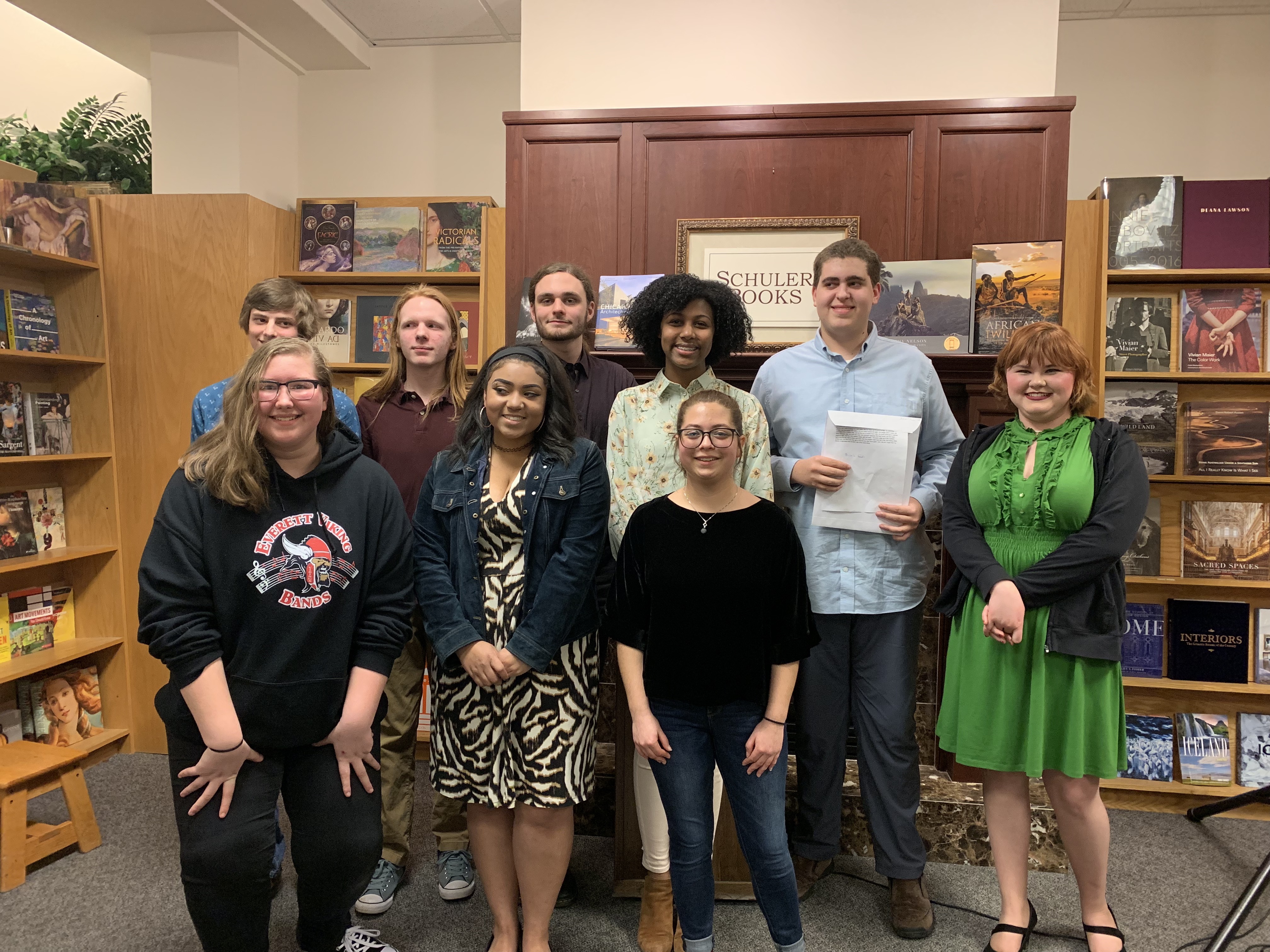 The winners and honorable mentions of the 2019 Capital Area Poetry Competition at the celebratory reading held April 25, 2019 at Schuler Books, Okemos.
Each spring, the RCAH Center for Poetry administers the Capital Area Poetry Competition, with prizes donated by Barry Gross in memory of his dear classmate, colleague, and friend Richard Benvenuto. 
This year's competition and reading will be held virtually.
The call for entries was emailed recently to high schools in Ingham, Eaton, and Clinton counties. The competition is open to all students who attend a high school one of these three counties. To view the most recent call for entries with guidelines, click here.
If you're a teacher in a tri-county high school and would like to be added to the distribution list, please email cpoetry@msu.edu with your name and the name of the high school where you teach.
About Richard Benvenuto: 
Richard Ercole Benvenuto taught in the English Department at Michigan State University for 20 years. From his office in Morrill Hall he conducted grad student seminars and advised students on the best paths for their lives. He loved teaching and was a published scholar of Victorian Literature. At the time of his death, Indiana University dedicated an issue of Victorian Studies in his honor. He published two biographies, one on Emily Bronte and the other on Amy Lowell. His next book would have been on Oscar Wilde. As a young grad student he was awarded a Woodrow Wilson Fellowship, which he used to pursue an MFA in Creative Writing at Hollins College, Virginia. At Hollins College, he worked under William Golding, author of Lord of the Flies. Richard played music and wrote poetry throughout his life. He was married for 27 years to his wife, Joyce, and has three children and four grandchildren. 
Announcing the winners of the 2020 Capital Area Poetry Competition 
This year's celebratory reading at Schuler Books was cancelled due to the COVID-19 crisis, but we're delighted to share the winners' work here (click to view). 
Winners have been awarded $100 for 1st Prize, $75 for 2nd Prize, $50 for 3rd Prize, and $30 for 4th Prize.
Congratulations to all our winners!
1st Prize
Skylar Kirby, Okemos High School
Poem: "Untitled"
Sponsoring teacher: Amy Huntley
2nd Prize
Kaylin Windom, Haslett High School
Poem: "Bibliophile"
Sponsoring teacher: Erin Parr
3rd Prize
Katrina Brown, Haslett High School
Poem: "Our Alternating Elements"
Sponsoring teacher: Erin Parr
4th Prize
Skylar Kirby, Okemos High School
Poem: "Untitled"
Sponsoring teacher: Amy Huntley